Fill Your Cup
Fill Your Cup
Buried in laundry, stuck in a rut, and up to my eyeballs with frustration, I felt ready to snap. My kids were jumping on my sofas, refusing to eat what I cooked, fighting with each other, and disrespecting me. Even my own mother didn't like being around my kids. Parenting just wasn't fun anymore. Something had to change.
Tapping my fingers on the table in search of a solution to the chaos around me, I realized that I couldn't remember the last time I painted my fingernails, one of my favorite things. In that moment, it hit me that I was such a mess because I hadn't been taking the time to fill my own cup.
Because I hadn't been taking care of myself, I had very little to give to my kids. And it showed. With new resolve, I committed to myself that in order to be the best mom I can be, I had to start taking care of myself first. After giving my nails a fresh coat of paint, I set out to take control of my life and transform it into a life I loved.
I scoured parenting books and researched child behavior. I realized that everything  the professionals had taught me to do to raise my kids was dead wrong and was actually making parenting harder. I learned that if I helped shape my kids behaviors, there would be less drama and more time for me.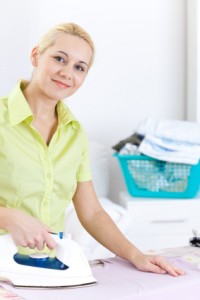 So I set out to create a system, Easy As Pie, to get my kids to do what I wanted and in a way that taught them the values of Kindness, Cheerfulness, Respect, Honesty, Helpfulness, and Responsibility.
My kids did a 180 and suddenly the time we spent together as a family was so much more enjoyable and fulfilling. My children listened to me. They fought less and my sofas no longer doubled as trampolines. I began to love my life again. This was only possible because I made myself a priority. I started to fill my own cup on a regular basis and I began to wonder if I could help other moms stuck in the same boat, too. The answer? A resounding "yes!"
One of my favorite ways to fill my cup is helping other mothers reclaim their lives by taking those few minutes each day. Women come to me to learn how to fill their own cup through my Fill Your Cup Seminar and Coaching Program. When women practice focusing on their C.U.P. (instead of everyone else's) they gain the Control, Understanding, and Patience to deal with anything their children dish out. The moms I've worked with have begun to reclaim their lives by taking care of themselves first.
Filling my cup has changed my life and made me a better mom. It's easy to implement it into your life, too. All it takes is a couple of minutes a day to do simple things like paint your nails, go for a walk, or even sit an enjoy a nice cup of coffee. Whatever fills your own cup and works best for you. So if you aren't sure how to start reclaiming your life today, ask me to walk you through it. I'd love to help you along your journey.